This 49-year-old woman underwent a Volumising Upper Lid Blepharoplasty (VULB) and Right Minimally Invasive Brow Lift, and these images have been taken 3 months after surgery. She has a full upper lid contour that looks much more youthful and rejuvenated.
This patient is in her mid-40s. She came to me with concerns about the heaviness and asymmetry of her upper eyelids. I performed an Upper Eyelid Blepharoplasty to achieve a more refreshed and harmonious look.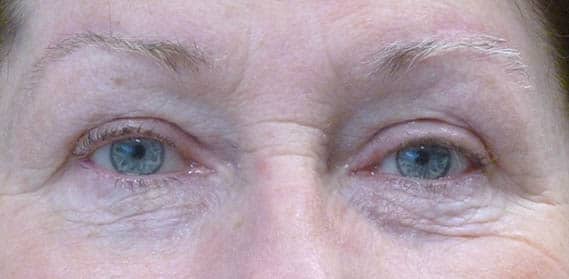 This lovely 53-year-old patient had Volumising Upper Lid Blepharoplasty (VULB) and minimally invasive Ptosis repair. She has maintained a full youthful upper lid contour and has a brighter rejuvenated appearance.
This 38-year-old patient had concerns about her increasingly droopy upper eyelids. She felt that she was looking tired. I performed an Upper Eyelid Blepharoplasty. She did extremely well with a natural looking result.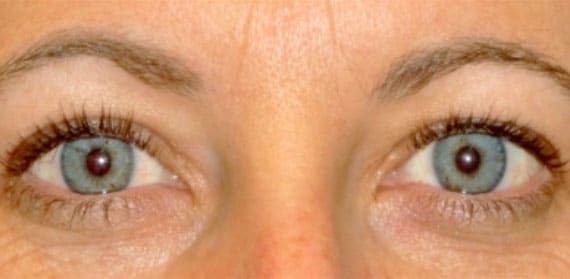 70-year-old woman had a mutliple previous Blepharoplasty surgeries causing hollowing, ptosis and asymmetrical eyelid creases. I performed a Volumising Upper Lid Blepharoplasty (V.U.L.B) with minimally invasive ptosis repair (C.P.L.A) to achieve better symmetry and lid shape.
Male Upper Lid Blepharoplasty
Minimally invasive Brow Lift surgery in combination with Upper Lid Blepharoplasty is a common procedure that I perform. It's important in male patients to ensure subtlety and preservation of masculine features to give a natural rejuvenated look. With minimally invasive techniques, post-operative swelling and bruising is minimised and patients can return to work more quickly. This 59-year-old man is shown 4 weeks post-operatively.
This 52-year-old patient noticed that his vision was compromised by the excess skin on his upper eyelids. I performed an Upper Eyelid Blepharoplasty and this achieved a much more youthful appearance and improved his visual field dramatically.
Upper and Lower Lid Blepharoplasty
Quadrilateral Blepharoplasty involves surgery to the Upper and Lower lids and is very useful if you are concerned by upper lid droopiness and lower lid bags. It's important to maintain volume and sculpt normal full contours to give a natural youthful look. I often perform Volumising Upper Lid Blepharoplasty with a minimally invasive Lower Lid Volumising Repositioning Blepharoplasty. I term these procedures VULB and VLLB! This lovely 54-year-old patient wanted to maintain her youthful fuller lids and it is important to preserve aesthetics. The patient was happy in their youth rather than completely change what they look like.
This patient is a 62-year-old lady who was looking more tired and older than she felt. I performed a Volumising Upper Lid Blepharoplasty (VULB) to retain her full upper lid look and in the lower lids, a Volumising Transpositional Transconjunctival Blepharoplasty to improve the lid cheek junction and ensure smoother transition. She looks rejuvenated and natural 18 months post-operatively
This 60-year-old woman was concerned by her tired look. I performed a Volumising Quadrilateral Blepharoplasty with fat preservation, sculpting and transposition. She has done very well with a more refreshed appearance.
This 50-year-old woman came to see me with very heavy upper eyelids and puffy lids, which made her look tired. I performed a Quadrilateral Fat Volumising Blepharoplasty to achieve a refreshed, natural-looking result and a smooth eyelid contour.
This 65-year-old female patient was unhappy about her aged appearance. On the upper lids, I performed an Anterior Ptosis Repair with a Volumising Custom Upper Lid Blepharoplasty, and on the lower lids, a Transconjunctival Fat Repositioning & Volumizing Blepharoplasty. She has done very well, and comments that her quality of life has increased greatly post-operatively.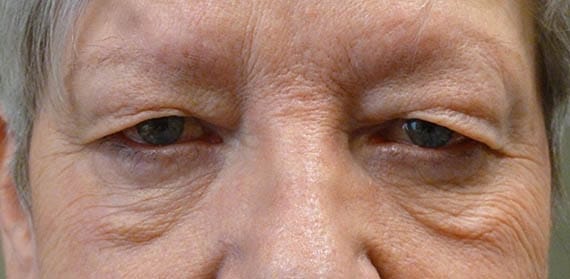 Lower Eyelid Blepharoplasty
This 31-year-old female patient previously had Tear Trough Filler which had to be removed due to lumpiness and swelling. I performed a Fat Volumising Minimal Incision Lower Lid Blepharoplasty. (V.L.L.B) She has done very well and achieved a smooth eyelid contour and natural looking result.
This patient in her early 30s was concerned about lower eyelid bags on both sides, and I performed a Lower Eyelid Fat Volumizing and Repositioning Blepharoplasty. She has achieved a very beautiful eyelid contour and natural-looking result.